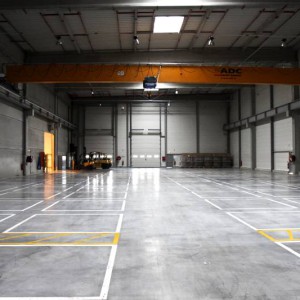 Qualiroc
Qualiroc is a cost-effective surface hardener for concrete floors, for places where fibre suppression and colour are the priorities.
Typical applications
Light duty and medium duty industrial floors
Warehouses
Workshops
Retail outlets
Storerooms
Product Description
Qualiroc is a non-metallic dry-shake surface hardener for concrete floors. It contains graded quartz sand, colour pigments and mixing additives, blended together into a powder. It is applied to the top of freshly-poured concrete, either sprinkled as a powder or premixed as a 'wet-on-wet' slurry. When cured it creates a protective layer on top of the concrete which acts as a fibre suppressant and gives a durable, colourful coating.
Fibre suppressant for SFRC
Qualiroc is a very effective surface fibre suppressant for steel fibre reinforced concrete (SFRC) floors. It improves the smoothness and quality of the floor's surface, so it is easier for vehicles to travel across the floor, and safer for building users too. A wet-on-wet (fresh-on-fresh) slurry application will give the best fibre suppression results, as this creates a thicker protective layer on the concrete's surface. Please refer to our FAQ on wet-on-wet application to learn more. Examples of both processes are shown in the videos at the end of this page.
Easy to clean
Because Qualiroc dry-shake creates a smooth surface on the concrete floor, it's easy to keep the floor clean and looking smart, with a regular cleaning regime using recommended floor care products. It is also resistant to dust infiltration.
Rust resistant
Qualiroc contains no metal particles, so it does not require any special coating to keep it rust free.
Light-reflective surface
Qualiroc has a natural light reflectivity. In particular, pale coloured surface hardeners can help to brighten the interior of a building, which can help reduce lighting requirements and contribute to energy efficiency.
Coloured concrete floors, easily achieved
Qualiroc is available is our full range of standard colours, and we can also create special colours to suit your building. This is a straightforward, cost-effective way to colour the surface of your concrete floor without using coloured concrete or floor paint.
Technical support
For technical specifications and information about coverage, please refer to our technical datasheet. If you have any questions about product suitability or usage, please contact our technical staff – we will be pleased to help you.
It is advisable to use a dust mask and gloves when handling this product. Please refer to our Material Safety Data Sheet for further details of how this product should be stored and handled.
Downloads
 Data sheet

 Safety data sheet

Leed confirmation

 Colour Chart
You may find these relevant articles helpful: