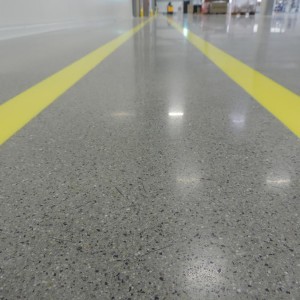 Qualitop Terrazzo
Qualitop Terrazzo is a poured floor system consisting of a specific matrix based on hydraulic binder and aggregates of white marble, black, red, green in crushed form, directly mixed with the binder.
It allows to easily and quickly realize very resistant decorative floors in the time with a true stamp conferred by the granules of marble.
Product Description
Once the floor is poured with Qualitop Terrazzo, sanded and polished marble inclusions will appear. These have a size between 10 and 25 mm for larger. It is possible to deposit Qualitop Terrazzo on a fresh concrete; this will require preparing the latter specifically with a float or sweep. These actions will ensure the good grip of Qualitop Terrazzo.
Regarding the characteristics of Qualitop Terrazzo, the matrix is pigmented in light gray, ivory, anthracite gray, white or salmon colors. The particle size can vary between 0 and 6 mm and the compressive strength of the finished soil is estimated at more than 40 MPa at 28 days. Qualitop Terrazzo therefore makes it possible to have very resistant grounds to the external demands.
In order to further improve the visual appearance of the Qualitop Terrazzo-coated floor and its long-term resistance, two products can be applied. The first is a Hydroprotec protection varnish or similar: It significantly increases the protection of the soil in the long term, and limits any alteration over time. The second is Roc Polish: this solution based on waxes, polymers and surfactants allows on the one hand to thoroughly clean the floor but also to polish it and give it a high gloss.
Downloads