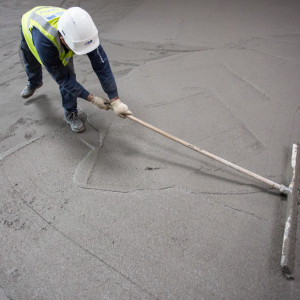 Qualitop Master
Qualitop Master is an attractive, medium to heavy-duty surface hardener, for use in buildings where appearance matters as much as protection.
Typical applications:
Exhibition halls
Multipurpose halls and arenas
Individual dwellings
Workshops with superflat floors
Medium-duty manufacturing
High-rise storage
Product Description
Qualitop Master is a surface hardener for concrete floors.  It contains both mineral and synthetic aggregates, workability aids and colour pigments. It is applied as a slurry to the top of a freshly-laid concrete slab, where it cures to create an attractive, wear-resistant surface.
Wet-on-wet application
Due to the nature of the aggregates in Qualitop Master, we recommended it is applied as a wet-on-wet (fresh-on-fresh) slurry on top of fresh concrete. The product is supplied as a dry powder which should be mixed with water on site to the correct consistency (our data sheet explains more).
The wet-on-wet application will ensure the floor develops a deep and consistent colour, and will retain its appearance and last for many years. Please refer to our FAQ about wet-on-wet (fresh-on-fresh) application to find out more about the benefits.
The video below shows a wet-on-wet surface hardener application.
Good abrasion resistance
Qualitop Master provides a good level of protection for areas where some abrasion is likely – for example, where there is regular pedestrian footfall or vehicle movement (such as pallet trucks or forklifts).
Light reflective floor surface, for energy efficiency
Qualitop Master, like many of our surface hardeners, can increase the reflectivity of the floor when paler colours are used. This can considerably brighten a building, and actually reduce the lighting needs, and thus the energy consumption of the building.
Static dissipative flooring
Qualitop Master dissipates static, helping to make the building more comfortable for people, and safer for equipment.
Concrete colour hardener
Using a surface hardener is a cost-effective way to colour a concrete floor. Qualitop Master is available in our full range of standard colours, and we can blend special colours for clients too – for example, to match brand colours or an interior colour scheme.
Long-lasting appearance
Because Qualitop Master contains no metal particles, it will not rust. With normal cleaning and maintenance, using recommended products, the floor will retain its depth of colour and appearance for years.
Technical support
For technical specifications and information about coverage, please refer to our technical datasheet. If you have any questions about product suitability or usage, please contact our technical staff – we will be pleased to help you.
It is advisable to use a dust mask and gloves when handling this product. Please refer to our Material Safety Data Sheet for further details of how this product should be stored and handled.
Downloads
 Data sheet

 Safety data sheet

Leed confirmation

 Colour Chart
You may find these relevant articles helpful: