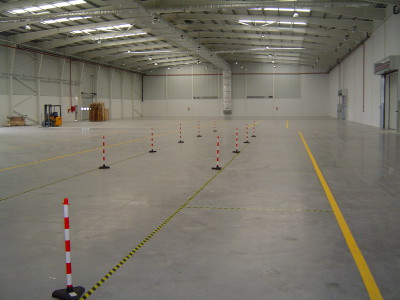 Checklist for choosing industrial floor coatings
When specifying industrial floor coatings, there are many different options available – such as resin floors, surface hardeners, screed finished floors, overlays, and vinyl or rubber tiles or coverings.
Choosing the right coating will ensure your industrial floor provides the optimum balance between serviceability and cost.
This checklist will help you consider the best approach for your project, and when a Rocland surface hardener would be a good choice.
1. Is it a new or existing floor?
With a new floor you can add a coating during construction, saving time and cost. Our surface hardeners can be applied as part of the concrete pour and will create a durable final surface.
A hard-wearing resin coating system can be applied to a new concrete slab (consider Rinol systems). Time should be allowed in the construction process for the various layers in the resin system to be created and to cure.
Before adding any kind of industrial floor coating to an existing floor, ensure the slab is sound first. Patching may be required (consider Roc RAGRÉAGE MMA), or joints may need to be replaced (consider Permaban Signature AR).
For widespread damage it may be best to remove the top few centimetres of the damaged concrete before resurfacing. For existing floors, our surface hardeners can be applied as a 'wet-on-dry' slurry.
2. What is the size of the floor?
Larger-scale industrial concrete floors will demand a commercial flooring solution, undertaken by a specialist industrial flooring contractor. The floor coating products used will be suitable for large-scale application.
For smaller spaces it may be more viable to consider a DIY approach. There may be a wider range of industrial floor coatings available to you, such as floor paints, tiles or rubber matting – these may be less practical or economically viable on a larger scale.
Our surface hardeners are often used in large commercial buildings, but can be used in smaller spaces too, applied by hand.
3. How long is the floor to last?
Most clients who own a building will want the floor to last several years. Floor damage and replacement is costly, both financially and in terms of business disruption.
Adding a surface hardener can add years of life to a concrete industrial floor – some hardeners more than others, depending on their composition.
Manufacturers of all industrial floor coatings should be able to provide information about likely wear. You can find ours in this article on abrasion resistance.
4. What will the building be used for?
This will indicate how hard the floor will need to work – 'duty' – and the likely threats to the floor's surface. It will identify environmental factors or hazards that may be present, such as salt water, extreme temperatures, oil or solvents. Perhaps your floor needs to be anti-static, conductive or dissipative; or you may need an anti-skid finish.
If one or more of these factors are present, it is likely to narrow your choice of industrial floor coatings.
For our surface hardeners we give full details of suitable applications on the product pages, and also in our FAQ section.
This also leads on to other related questions:
5. What's the likelihood of impact and abrasion damage?
Impact damage is caused by sudden heavy drops onto the floor; abrasion damage by scraping across the floor.
Some industrial applications run the risk of tools, heavy goods or equipment being dropped on the floor. Even in public buildings, sharp heels can cause impact damage. In warehouses, boxes and pallets might cause abrasion damage through being dragged across the floor.
Our article on abrasion resistance explains more.
Ensure you have undertaken a risk analysis for your floor, and looked at manufacturers' information on abrasion and impact resistance so you can choose appropriately.
6. What vehicles will use the floor?
Light pedestrian traffic and rubber tyres will cause less damage to a concrete floor than hard steel wheels. To prevent premature wear, be realistic about what the floor will have to endure.
If a change of building use is possible in the future, or a change of materials handling equipment, then consider the worst-case scenario and specify accordingly.
7. What cleaning will be required?
Some environments demand regular cleaning, either for aesthetics or to meet hygiene standards (eg, in food production facilities). Check your industrial floor coating will withstand regular contact with cleaning chemicals. For example, our Indurit floor screed was designed for this purpose.
A resin flooring system can also provide an easy to clean, seamless surface that won't harbour germs. Some rubber floor coatings will not tolerate regular contact with detergents.
8. Does the floor need to be light reflective?
In some circumstance a reflective surface can make the building feel brighter, and mean fewer lights are needed. The floor will need to be kept clean (see point 7).
A resin surface will be naturally light reflective; but so will a concrete floor with a light-coloured surface hardener, which may be a viable and cost-effective alternative.
9. Do you need to add colour?
While rubber flooring and tiles gives a wealth of colour choice, these are not the only options for adding colour. Our surface hardeners come in numerous standard colours and we also create special blends. Our article on adding colour to concrete floors covers this topic in depth.
Understanding all the aspects of how your floor will be used during its lifetime will help you make the right choice from the industrial floor coatings on the market.
If you need any guidance on choosing or using our screeds and surface hardeners, please get in touch with us and we will be happy to help.