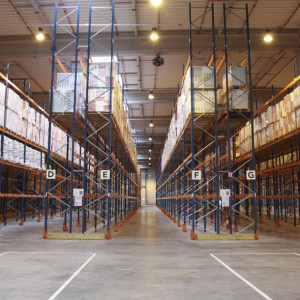 Qualitop Millenium
Qualitop Millenium is our toughest dry-shake surface hardener, with excellent abrasion resistance.
Typical applications
Heavy industry and engineering
Logistics and freight terminals
Aircraft hangars
Railway workshops
Military bases
Utility works
Product Description
Qualitop Millenium is a blended mix of hard non-metallic aggregates, cement and colour pigments. It is applied to the top of a freshly-laid concrete slab, either in powder form or as a slurry. Once cured, it forms a hard topping monolithic with the concrete slab beneath. This protects the concrete floor's surface and extends the life of the floor.
Excellent abrasion resistance
Qualitop Millenium is our most abrasion-resistant 'dry-shake' industrial concrete floor coating. In technical abrasion tests (the Boehm test) the floor's surface wore by only 1.5cm3 per 50cm2 (the result for an uncoated floor was 9cm3 per 50cm2). So Qualitop Millenium is ideal for applications where there is repeated heavy vehicle traffic.
Protection from impact and load
Qualitop Millenium has been formulated to provide excellent impact resistance. This makes it a perfect choice for heavy industry or engineering workshops, where there is a risk of heavy tools and equipment being dropped on the floor. It has excellent point load too, so the floor's surface will remain strong when heavy loads are placed on it or moved across it.
No rusting
Because Qualitop Millenium contains no metal particles, there is no risk of rust appearing in the surface. This means that, with a normal cleaning and maintenance regime, the floor will keep its smart appearance for years.
Long-term performance and cost savings
Qualitop Millenium is a high performance industrial concrete floor coating. Building owners who want to build 'right first time' will be rewarded with years of reliable service, with minimal repair and maintenance costs. For property developers, specifying Qualitop Millenium means versatility in how the building can be used. It also means a value-added offering for tenants, for whom the floor will simply perform without issue.
Coloured concrete floors, easily achieved
Qualitop Millenium is available in our full standard range of colours, and bespoke colours can be created too. This makes it easy to build a floor in a company's own brand colours; or to create zones within the floor. Please download our colour guide for details. If you would like to see a product sample, or photographs of finished projects, please contact our technical advisers.
Dry or wet application
Qualitop Millenium can be applied as a dry-shake powder, sprinkled on top of a freshly-laid concrete slab. For a thicker surface, with a deeper colour and enhanced protection, it can also be applied as a slurry. This is achieved by pre-mixing the powder with water in the correct dosage, and applying it to the top of the concrete (known as wet-on-wet, or fresh-on-fresh application). Further details are given in the technical datasheet, and in our FAQ. Examples of the two application methods can be seen in the videos below.
Technical support
For technical specifications and information about coverage, please refer to our technical datasheet. If you have any questions about product suitability or usage, please contact our technical staff – we will be pleased to help you. It is advisable to use a dust mask and gloves when handling this product. Please refer to our Material Safety Data Sheet for further details of how this product should be stored and handled.
Qualitop Millenium or Qualitop Titanium?
Please read our FAQ which explains the difference between these two heavy-duty surface hardeners.
Downloads
 Data sheet

 Safety data sheet

Leed confirmation
 Colour Chart
You may find these relevant articles helpful: