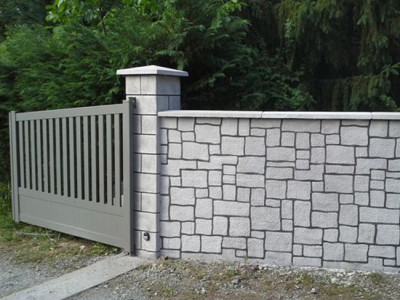 Decorative concrete: functional concrete with visual impact
Concrete is often dismissed as ugly, thanks to 1960s architecture, but nowadays there are plenty of products, treatments and techniques that can transform this functional material into a creative masterpiece with added benefits.
From multiple colour variants to polished finishes, today decorative concrete is not just pretty, but it works hard too with specialist finishes suitable for all sorts of tough environments, from food manufacturing facilities to housing underfloor heating pipes.
So, if you're a company looking for a different kind of concrete finish for your building or an architect or contractor looking for inspiration, here are some of the ways you can turn your concrete walls, floors and furniture into good looking, durable showpieces.
Add a decorative finish with a spray-on liquid screed
Spray-on liquid screeds are available in a wide variety of colours, enabling you to create a dramatic effect on concrete slabs, blocks, paving or mortar. You can even use a stencil to create beautiful patterns, bespoke designs or even brand logos on walls and floors. Applying a liquid screed spray is an easy way to personalise domestic walls and floors or to add visual impact to commercial and public buildings like hotels, theatres, hospitals and schools.
Indurit Spray can be used on internal and external walls and is suitable for new concrete and for use in refurbishment projects.
Stencil patterns into concrete floors
Stencilling a pattern into concrete is an effective way of adding texture and character to a floor. Using a specialist release agent will ensure the stencil is easily removed after the concrete has been finished and textured without compromising the decorative surface. Concrete release agents are available in a variety of colours to add contrast to your designs.
Roc Release Agent is a fine powder ideal for the creation of stencilled external concrete slabs.
Use a coloured, textured or polished screed
Screeds are no longer used merely to create a smooth, level base for the final finish or floor covering. Textured or polished screeds can also be used for beautifully decorative concrete walls, floors or even furniture resulting in an extremely attractive finish.
Screeds are available in a variety of colours, which can add a dramatic touch. Power trowelling with polishing blades will result in a smart, glazed appearance. While with some screeds, such as Indurit Screed, the surface can be sand blasted for a polished, mineral look.
Some screeds are even designed to be decorative. Indurit Topping gives concrete a decorative waxed appearance. But the product can be used to achieve a variety of surface finishes from a modern, sleek and smooth look to a rustic, textured finish. It can be used on walls and floors inside and out and is suitable for: domestic residences, public and commercial buildings such as supermarkets and offices. It is also perfect for decorative built-in furniture such as tables and chairs.
Sometimes a specialist screed such as Indurit heavy duty granolithic screed, which is designed for demanding industrial and food manufacturing environments, is applied as a final floor finish. But there is still room for creative flair through the colour choice available.
Apply a coloured surface hardener
As well as improving a floor's resistance to impact and abrasion damage, surface hardeners come in a variety of colours. So whether you want to build a floor in your company's brand colours or create zones in your floor, there are artistic options to help turn your concrete floor into a work of art. For more inspiration on coloured concrete floors read our article: Six ways to achieve a coloured concrete floor.
All Rocland's surface hardeners are available in multiple colours.
Concrete is an incredibly robust and versatile material. It is long lasting and easy to care for. It's also the perfect blank canvas to allow your creative spirit to shine.